Brief Introduction of About Ladakh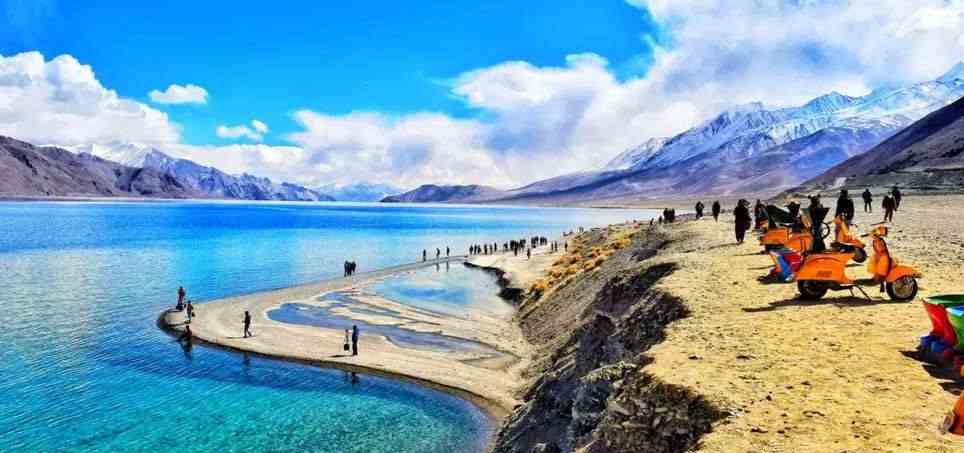 Brief Introduction of About Ladakh Below is a quick summary of all you need to know about this recently created Indian Union Territory, Ladakh:

• Capital : Leh

Number of Districts in Ladakh : 2

Names of the Districts in Ladakh : Leh & Kargil

Area : 59,146 km2 (22,836 sq mi)

Population : 274,289

Highest elevation : Saltoro Kangri, 7742 m (25400 ft)

Lowest elevation : Indus River, 2550 m (8370 ft)

Languages : Official (Hindi, English) & Spoken (Ladakhi, Urdu)

Largest Town : Leh

After the 9th Century, Ladakh's history can be more clearly tracked. After the early Tibetan Empire crumbled around 950 CE, the Kingdom of Ladakh was founded. Under independent kings, many of whom were descended from the Tibetan royal dynasty, autonomous kingdoms were established.

Ladakh, sometimes known as the "Land of High Passes," is a desolate yet stunning area found in the state of Jammu and Kashmir in northern India. Ladakh has Lahaul and Spiti to its south, the Kashmir valley to its west, and a shared east border with Tibet. Strategically placed on ancient trade routes, Ladakh lies between the Kunlun Mountains in the north and the Himalayas in the south. The Baltistan Valley, the Indus Valley, Zanskar, Lahaul, Spiti, Aksai Chin, and Ngari were all once included in the area. .

While the majority of Ladakhis are Tibetan Buddhists, Indo-Aryans and Tibetans make up the majority of the region's population. The area's other residents are Shia Muslims. DO SEE 2017 Ladakh road trip itinerary: Ladakh attractions to see when biking from Manali to Leh to Srinagar Since Ladakh began welcoming visitors in the 1970s, its snow-capped peaks, bright blue sky, and panoramas of desolate landscapes punctuated only by blue flowing rivers have drawn a variety of adventurous travellers. For Ladakhis, tourism is their major source of income. Due to Ladakh's advantageous position, the Indian Army has a significant presence there. .

Ladakh is a favourite among mountaineering aficionados because to its picturesque scenery, difficult terrain, stunning mountains, and the difficulty of roughing it. Ladakh is not a good destination for individuals searching for a short vacation because of its isolation and high altitude. It may take some time for you to adjust to the weather in Ladakh. However, because of the absence of modernization, its natural and rustic brilliance has been retained..

BEST PLACES TO STAY IN LADAKH

Ladakh provides lodging options for every price, including family-run inns, guest homes, low-cost hotels, and accommodations in monasteries. However, Leh has more lodging alternatives, including luxury hotels on Old Sheynam Road, affordable hotels close to the Central Library, and guest homes in Changsva.

During the summer, camps and hikers' cottages are a popular sight in the Nubra, Changthang, and Drokpa regions. Every season, new tourist campgrounds appear in Korzok village.

BEST PLACES TO EAT IN LADAKH

Tibetan, Korean, Chinese, Indian, and continental cuisines are just a few of the many options available in Ladakh. These are available at booths along the street, dining establishments, cafés, and outdoor restaurants. Don't forget to sample the regional delicacies when visiting Ladakh, like momos, marchwangan korma, and the region's butter-yak tea. About ladakh,Acme Tour and Travels
Destinations in ladakh
About Ladakh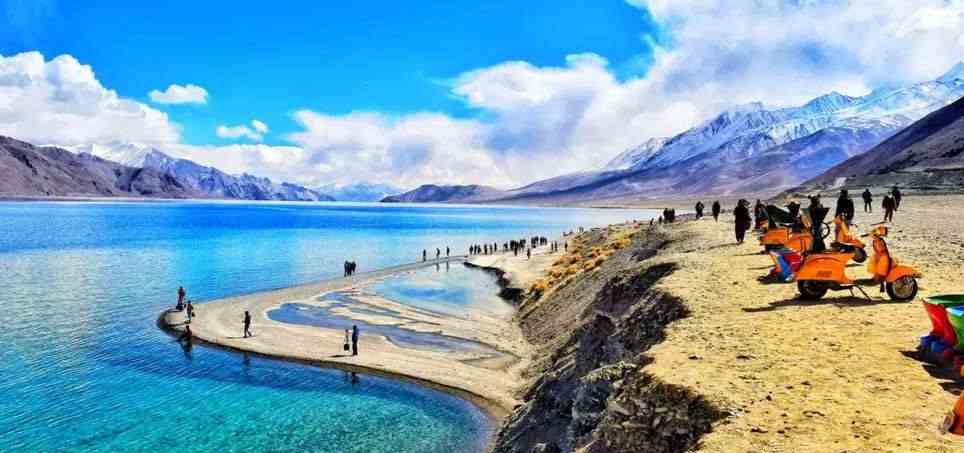 Below is a quick summary of all you need to know about this recently created Indian Union Territory, Ladakh:

• Capital : Leh

Number of Districts in Ladakh : 2

Names of the Districts in Ladakh : Leh & Kargil

Area : 59,146 km2 (22,836 sq mi)

Population : 274,289

Highest elevation : Saltoro Kangri, 7742 m (25400 ft)

Lowest elevation : Indus River, 2550 m (8370 ft)

Languages : Official (Hindi, English) & Spoken (Ladakhi, Urdu)

Largest Town : Leh

After the 9th Century, Ladakh's history can be more clearly tracked. After the early Tibetan Empire crumbled around 950 CE, the Kingdom of Ladakh was founded. Under independent kings, many of whom were descended from the Tibetan royal dynasty, autonomous kingdoms were established.

Ladakh, sometimes known as the "Land of High Passes," is a desolate yet stunning area found in the state of Jammu and Kashmir in northern India. Ladakh has Lahaul and Spiti to its south, the Kashmir valley to its west, and a shared east border with Tibet. Strategically placed on ancient trade routes, Ladakh lies between the Kunlun Mountains in the north and the Himalayas in the south. The Baltistan Valley, the Indus Valley, Zanskar, Lahaul, Spiti, Aksai Chin, and Ngari were all once included in the area. .

While the majority of Ladakhis are Tibetan Buddhists, Indo-Aryans and Tibetans make up the majority of the region's population. The area's other residents are Shia Muslims. DO SEE 2017 Ladakh road trip itinerary: Ladakh attractions to see when biking from Manali to Leh to Srinagar Since Ladakh began welcoming visitors in the 1970s, its snow-capped peaks, bright blue sky, and panoramas of desolate landscapes punctuated only by blue flowing rivers have drawn a variety of adventurous travellers. For Ladakhis, tourism is their major source of income. Due to Ladakh's advantageous position, the Indian Army has a significant presence there. .

Ladakh is a favourite among mountaineering aficionados because to its picturesque scenery, difficult terrain, stunning mountains, and the difficulty of roughing it. Ladakh is not a good destination for individuals searching for a short vacation because of its isolation and high altitude. It may take some time for you to adjust to the weather in Ladakh. However, because of the absence of modernization, its natural and rustic brilliance has been retained..

BEST PLACES TO STAY IN LADAKH

Ladakh provides lodging options for every price, including family-run inns, guest homes, low-cost hotels, and accommodations in monasteries. However, Leh has more lodging alternatives, including luxury hotels on Old Sheynam Road, affordable hotels close to the Central Library, and guest homes in Changsva.

During the summer, camps and hikers' cottages are a popular sight in the Nubra, Changthang, and Drokpa regions. Every season, new tourist campgrounds appear in Korzok village.

BEST PLACES TO EAT IN LADAKH

Tibetan, Korean, Chinese, Indian, and continental cuisines are just a few of the many options available in Ladakh. These are available at booths along the street, dining establishments, cafés, and outdoor restaurants. Don't forget to sample the regional delicacies when visiting Ladakh, like momos, marchwangan korma, and the region's butter-yak tea.
Destinations in Kashmir Valley