Brief Introduction of Dal Lake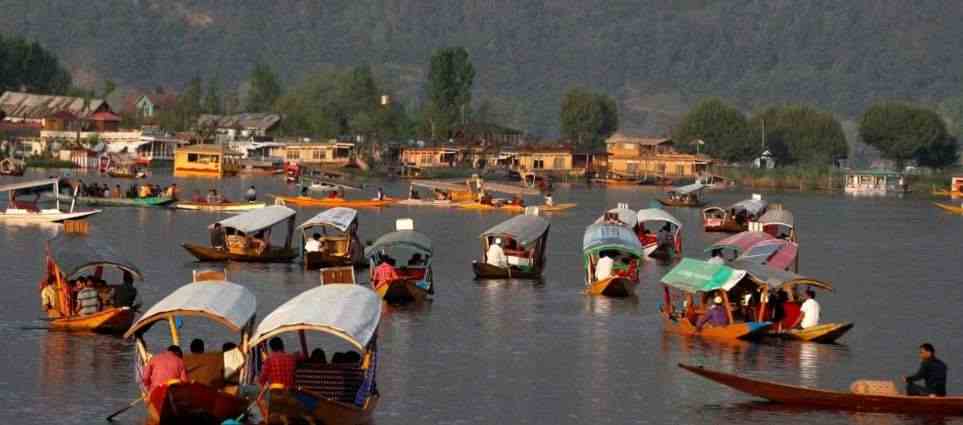 Dal Lake In Kashmir-Kashmir is referred to as "Paradise on Earth" because of its unrivalled beauty. Nature's various gifts—mountains, lakes, and lush green vegetation—that beautifully combine to create Kashmir's beauty are what make this place so lovely.

This lovely lake is one such marvel. The Dal lake, frequently referred to as Srinagar's "Jewel," is one of the many attractions that drive tourists to the city. The second largest lake in the state and widely regarded as the most beautiful is Dal Jheel or Lake. There are around 15 kilometres of it.

This lake is unique in that it has five basins and a vast network of intricate canals and streams that are expertly interconnected. With a minimum depth of 5 feet and a maximum depth of 20 feet, the lake is relatively shallow.



This stunning lake is the first thing that springs to mind when one thinks of Srinagar. It seems as though Srinagar and Kashmir's tourism has almost entirely adopted this lake as a symbol. The lake is so much more than just its crystal-clear water. In this essay, we'll walk you through its splendour and explain why it's so extraordinarily unique.

The Beauty of Dal Lake

Just picture the following scene: a sizable lake with three sides surrounded by snow-capped mountains, shikaras in vibrant colours and traditional Kashmiri houseboat styles floating on the lake, and gorgeous Mughal gardens and orchards around its banks. Two hillocks with views of the lake are home to the Hari Parbat and Shankaracharya temples. Yes, the Dal lake truly is that beautiful. And the pictures of Dal Lake are proof of this.

The floating gardens on the Dal also possess a certain enchantment. They are a part of the lake's natural system. On this lake, local farmers are committed to raising crops and veggies. These floating gardens provide a living for almost 6,000 families. The harvested goods are then offered for sale at Srinagar's neighbourhood marketplaces.

Its beauty has drawn many filmmakers as well as tourists from all over the world. Up to 20 movies have been filmed here and nearby. Among many others, some of the most well-known ones include Kashmir ki Kali, Lamhaa, Kabhi Kabhi, and Dil se.

Here, the summertime temperature ranges from 12 to 30 degrees Celsius, while the wintertime ranges from 1 to 11 degrees Celsius. If Srinagar experiences a harsh winter with unusually low temperatures, the Dal lake will freeze over.

The History and Origin of Dal Lake Srinagar

There are essentially two hypotheses that explain how the lake was formed. Geologists-supported historical speculation contends that the lake is actually a post-glacial body of water that emerged after the Pleistocene. Another idea claims that the Dal lake was merely created by flood spillover.

The Mughal emperors chose Srinagar as their summer retreat during their dominance over India. In order to experience Srinagar's breathtaking splendour throughout the summer, they constructed Mughal-style gardens to delineate the lake's edges.

Later, when the British were in charge of India, they chose Srinagar as their summer vacation destination. In the Kashmir valley, the British were prohibited from purchasing land and constructing residences. However, they discovered a legal exception to this rule—namely, that there was no prohibition on subsisting on water. They consequently constructed houseboats. The Dal Lake's houseboats still have a faint colonial flavour about them, despite being built in the typical Kashmiri manner.

Dal Lake Kashmir's beauty has endured the test of time and earned a place in the hearts of those who have admired it.

Dal Lake Kashmir and Floating Markets

The floating marketplaces that distinguish the Dal Jheel are yet another unique feature. The Dal Lake is the subject of several fascinating legends, one of which is that of its floating marketplaces. One of the most well-known markets of its kind exists here.

Wake up early and travel to the Dal lake to experience its beauty from a different angle. Observing the local farmers selling fresh food they collect from their floating gardens while travelling over the lake in their separate shikaras is quite the adventure in and of itself. Every morning, up to a hundred boats congregate here.

These farmers have gathered in the lake's centre. Having loaded their boats with a variety of veggies, the sellers begin calling out to potential customers in the regional language. At this time, business is booming, and by the time the sun is just starting to rise over the ocean, everything is done.

The conversation lasts for just about an hour. Following that, everyone returns to their individual homes, leaving the impression that the market never happened. The life of the native Kashmiris living here is also depicted in this magnificent scenario, providing you a glimpse into the Kashmiri way of life.

Anytime you're in Srinagar, be sure to head to the Dal lake first thing in the morning. We can assure you that it will be a memorable and priceless experience.

Wow, even thinking about it makes us want to travel here right away. Don't you experience the same emotions as well? The Shikaras and Houseboats of Dal lake Kashmir

Shikaras

A shikara is nothing more than a little boat made of carved wood. One of the lake and city's biggest attractions is this. Shikaras are frequently compared to Venice's "Gondolas." The daily lives of Kashmiris living in Srinagar include these boats in large part. With these shikaras, the Dal lake seems to be a completely different universe. Everything is available aboard these tiny wood boats, from fruits and vegetables to baked goods and tailors!

The conveyance of people is another purpose for these vessels. A shikara ride along the Dal lake is unmatched in its beauty. As you get ready to embark on this great voyage, rest your body and refresh your thoughts. The journey provides stunning 360-degree views of the lake and its surrounds. Shikara rides are highly recommended for tourists visiting Srinagar. Every minute spent on the boat is enjoyable because it is such a wonderful journey. Bring your camera with you and make sure it's well charged because every part of the lake has a unique view of the beautiful city, making it difficult to pick which sight is more beautiful: the one you just saw or the one you're about to see next.

Houseboats

Without staying on one of the houseboats in Dal Lake, your trip to Kashmir is incomplete. The Kashmiri houseboats remain immovable, in contrast to many houseboats in other regions of India. A house built inside a boat is what is meant by the word "houseboat." It includes all the conveniences a traveller would require. Typically, a houseboat has five to six rooms.

The ideal example of "comfort meets luxury" that is also reasonably priced is a houseboat. The houseboats' antique-style architecture gives you a feeling of absolute luxury. With meticulous attention to detail and traditional Kashmiri decor throughout, these houseboats also serve as illustrations of what a typical Kashmiri home looks like.

Once inside, the staff will lavish you with their wonderful welcome, leaving you with memories you won't soon forget.

A once-in-a-lifetime adventure on one of these magnificent houseboats. A beautiful alpine scene awaits you as you awaken. Enjoy the relaxing sunrises and sunsets while sitting on the deck.

Enjoy the Dal Lake's breathtaking splendour while travelling to and from your houseboat on a shikara. You might even decide to buy some flowers and other treats to take back to your houseboat. Let the clear waters calm and soothe you while you unwind and take this opportunity to refresh your mind and spirit.

While many boats provide meals upon request, you may also savour the mouthwatering real Kashmiri cuisine. Every traveler's budget can be accommodated with houseboats ranging from simple to luxurious and regal.

You may also take shikara rides from these houseboats to well-known tourist attractions like the Mughal Gardens and the Hazrat Bal.

What is the best time to visit the Dal jheel?

The best time would be to visit from May to November.

The Dal lake's beauty is unrivalled, from giving the inhabitants a means of subsistence to giving visitors an experience of a lifetime. Come here once and discover its enchantment for yourself; we are confident you'll want to return time and time again. If You Are Looking For Kashmir Holiday Packages
ABOUT Dal lake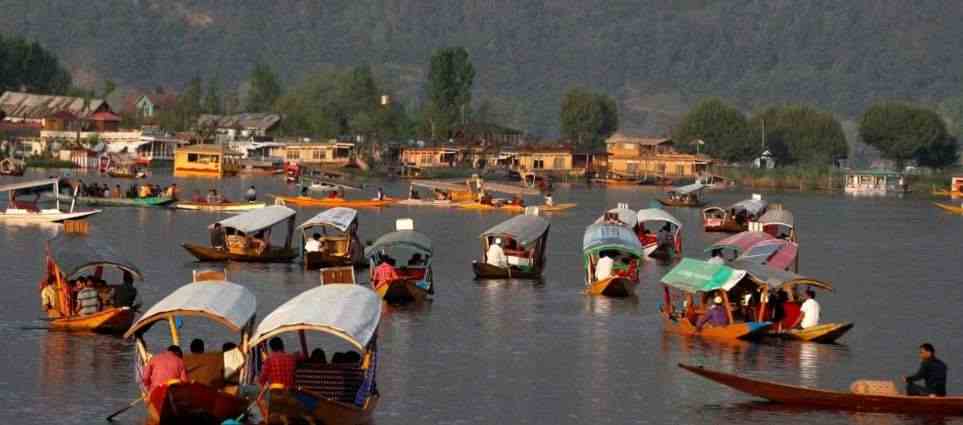 Kashmir is referred to as "Paradise on Earth" because of its unrivalled beauty. Nature's various gifts—mountains, lakes, and lush green vegetation—that beautifully combine to create Kashmir's beauty are what make this place so lovely.

This lovely lake is one such marvel. The Dal lake, frequently referred to as Srinagar's "Jewel," is one of the many attractions that drive tourists to the city. The second largest lake in the state and widely regarded as the most beautiful is Dal Jheel or Lake. There are around 15 kilometres of it.

This lake is unique in that it has five basins and a vast network of intricate canals and streams that are expertly interconnected. With a minimum depth of 5 feet and a maximum depth of 20 feet, the lake is relatively shallow.



This stunning lake is the first thing that springs to mind when one thinks of Srinagar. It seems as though Srinagar and Kashmir's tourism has almost entirely adopted this lake as a symbol. The lake is so much more than just its crystal-clear water. In this essay, we'll walk you through its splendour and explain why it's so extraordinarily unique.

The Beauty of Dal Lake

Just picture the following scene: a sizable lake with three sides surrounded by snow-capped mountains, shikaras in vibrant colours and traditional Kashmiri houseboat styles floating on the lake, and gorgeous Mughal gardens and orchards around its banks. Two hillocks with views of the lake are home to the Hari Parbat and Shankaracharya temples. Yes, the Dal lake truly is that beautiful. And the pictures of Dal Lake are proof of this.

The floating gardens on the Dal also possess a certain enchantment. They are a part of the lake's natural system. On this lake, local farmers are committed to raising crops and veggies. These floating gardens provide a living for almost 6,000 families. The harvested goods are then offered for sale at Srinagar's neighbourhood marketplaces.

Its beauty has drawn many filmmakers as well as tourists from all over the world. Up to 20 movies have been filmed here and nearby. Among many others, some of the most well-known ones include Kashmir ki Kali, Lamhaa, Kabhi Kabhi, and Dil se.

Here, the summertime temperature ranges from 12 to 30 degrees Celsius, while the wintertime ranges from 1 to 11 degrees Celsius. If Srinagar experiences a harsh winter with unusually low temperatures, the Dal lake will freeze over.

The History and Origin of Dal Lake Srinagar

There are essentially two hypotheses that explain how the lake was formed. Geologists-supported historical speculation contends that the lake is actually a post-glacial body of water that emerged after the Pleistocene. Another idea claims that the Dal lake was merely created by flood spillover.

The Mughal emperors chose Srinagar as their summer retreat during their dominance over India. In order to experience Srinagar's breathtaking splendour throughout the summer, they constructed Mughal-style gardens to delineate the lake's edges.

Later, when the British were in charge of India, they chose Srinagar as their summer vacation destination. In the Kashmir valley, the British were prohibited from purchasing land and constructing residences. However, they discovered a legal exception to this rule—namely, that there was no prohibition on subsisting on water. They consequently constructed houseboats. The Dal Lake's houseboats still have a faint colonial flavour about them, despite being built in the typical Kashmiri manner.

Dal Lake Kashmir's beauty has endured the test of time and earned a place in the hearts of those who have admired it.

Dal Lake Kashmir and Floating Markets

The floating marketplaces that distinguish the Dal Jheel are yet another unique feature. The Dal Lake is the subject of several fascinating legends, one of which is that of its floating marketplaces. One of the most well-known markets of its kind exists here.

Wake up early and travel to the Dal lake to experience its beauty from a different angle. Observing the local farmers selling fresh food they collect from their floating gardens while travelling over the lake in their separate shikaras is quite the adventure in and of itself. Every morning, up to a hundred boats congregate here.

These farmers have gathered in the lake's centre. Having loaded their boats with a variety of veggies, the sellers begin calling out to potential customers in the regional language. At this time, business is booming, and by the time the sun is just starting to rise over the ocean, everything is done.

The conversation lasts for just about an hour. Following that, everyone returns to their individual homes, leaving the impression that the market never happened. The life of the native Kashmiris living here is also depicted in this magnificent scenario, providing you a glimpse into the Kashmiri way of life.

Anytime you're in Srinagar, be sure to head to the Dal lake first thing in the morning. We can assure you that it will be a memorable and priceless experience.

Wow, even thinking about it makes us want to travel here right away. Don't you experience the same emotions as well? The Shikaras and Houseboats of Dal lake Kashmir

Shikaras

A shikara is nothing more than a little boat made of carved wood. One of the lake and city's biggest attractions is this. Shikaras are frequently compared to Venice's "Gondolas." The daily lives of Kashmiris living in Srinagar include these boats in large part. With these shikaras, the Dal lake seems to be a completely different universe. Everything is available aboard these tiny wood boats, from fruits and vegetables to baked goods and tailors!

The conveyance of people is another purpose for these vessels. A shikara ride along the Dal lake is unmatched in its beauty. As you get ready to embark on this great voyage, rest your body and refresh your thoughts. The journey provides stunning 360-degree views of the lake and its surrounds. Shikara rides are highly recommended for tourists visiting Srinagar. Every minute spent on the boat is enjoyable because it is such a wonderful journey. Bring your camera with you and make sure it's well charged because every part of the lake has a unique view of the beautiful city, making it difficult to pick which sight is more beautiful: the one you just saw or the one you're about to see next.

Houseboats

Without staying on one of the houseboats in Dal Lake, your trip to Kashmir is incomplete. The Kashmiri houseboats remain immovable, in contrast to many houseboats in other regions of India. A house built inside a boat is what is meant by the word "houseboat." It includes all the conveniences a traveller would require. Typically, a houseboat has five to six rooms.

The ideal example of "comfort meets luxury" that is also reasonably priced is a houseboat. The houseboats' antique-style architecture gives you a feeling of absolute luxury. With meticulous attention to detail and traditional Kashmiri decor throughout, these houseboats also serve as illustrations of what a typical Kashmiri home looks like.

Once inside, the staff will lavish you with their wonderful welcome, leaving you with memories you won't soon forget.

A once-in-a-lifetime adventure on one of these magnificent houseboats. A beautiful alpine scene awaits you as you awaken. Enjoy the relaxing sunrises and sunsets while sitting on the deck.

Enjoy the Dal Lake's breathtaking splendour while travelling to and from your houseboat on a shikara. You might even decide to buy some flowers and other treats to take back to your houseboat. Let the clear waters calm and soothe you while you unwind and take this opportunity to refresh your mind and spirit.

While many boats provide meals upon request, you may also savour the mouthwatering real Kashmiri cuisine. Every traveler's budget can be accommodated with houseboats ranging from simple to luxurious and regal.

You may also take shikara rides from these houseboats to well-known tourist attractions like the Mughal Gardens and the Hazrat Bal.

What is the best time to visit the Dal jheel?

The best time would be to visit from May to November.

The Dal lake's beauty is unrivalled, from giving the inhabitants a means of subsistence to giving visitors an experience of a lifetime. Come here once and discover its enchantment for yourself; we are confident you'll want to return time and time again.