Brief Introduction of Drung waterfall Tangmarg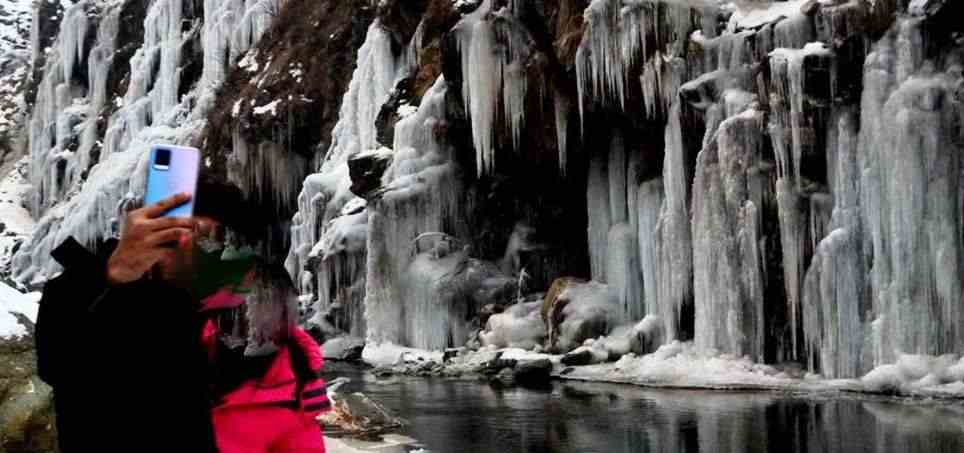 Brief Introduction of Drung waterfall Tangmarg A recently found, stunning tourist destination, Drung or Drang, is situated around 50 kilometres from Srinagar. It is a little hamlet in Baramulla's Gulmarg district's Tangmarg tehsil. Just 3 miles from Tangmarg, Drung is surrounded by deep pine trees, breathtaking views of meadows, and flowing brooks. It is located on the route to the lovely Gulmarg.

The 3 km-long road from Tangmarg to Drung is still being built, and it has not yet been completely macadamized. Unlike other popular tourist destinations, Drung is great for day visits and even family picnics. The Gulmarg Development Authority is working to enhance Drung so that it may serve as a rest stop for visitors who wish to spend days exploring this area. Firozpur Nallah is a good location for trout fishing and rock climbing due to its flowing brooks.

Places to visit in Drung:

•The Frozen Waterfall:

Drung is the site to be viewed in its fascinating form in the winter when everything is blanketed in snow. The waterfall and Nallah that surround it ice due to the exceptionally low temperature, making it considerably more lovely in the winter. As a result, the impressive waterfall serves as the primary draw for a sizable number of tourists before merging with the glacier-fed water streams.

•The relics of an Ancient Hindu Temple:

Drung's ancient Hindu Temple is located a mile away from the Drung Waterfall on the banks of Firozpur River.

The history tells us that the temple is believed to be built by Pandavas of Mahabharata fame.

Following its protection and designation as a "State Protected Monument" in accordance with the "Ancient Monument Preservation Act Samvat 1977" in 1983, the monument has been looked after by the SDA, the state department of archaeology.

How to reach Drung:

While many tourists to Kashmir make their reservations in advance with reputable travel services like WadiyeSitara Tour & Travels, some of them decide to travel independently. In order to make your trip to Kashmir more unforgettable, be sure to visit this location and reserve your vacation package with WadiyeSitara Tour & Travels.

Both an airport and a train station are absent from Drung. Srinagar International Airport, which is around 48 kilometres from Drung, is the closest airport. Travelers may reach Drung from Srinagar by bus or cab in around 1 hour and 32 minutes. After arriving in Tangmarg, visitors may also hire guides and horses and go to Drung to see the entire area.

Best places to stay in Drung:

There are no restaurants or hotels in Drung, but visitors may find the best lodging in Tangmarg, which is three kilometres away, or even at the top hotels in Gulmarg, such the Royal Park Hotel, which is known for its warm hospitality, centrally heated rooms, and upscale eating options.

Best time to visit Drung:

Any time of year, tourists are drawn to the valley by its beauty since it is close to Gulmarg, a well-known tourist attraction in North Kashmir. Beginning in March, which is still a cold month, December ushers in the winter season when the waterfall freezes and visitors begin to flock to this popular tourist destination, Drung. The weather is snowy yet comfortable during this time of year, with temperatures ranging from 0°C to -3°C, making it ideal for daytime touring. Drung waterfall Tangmarg kashmir packages for couple
About Drung waterfall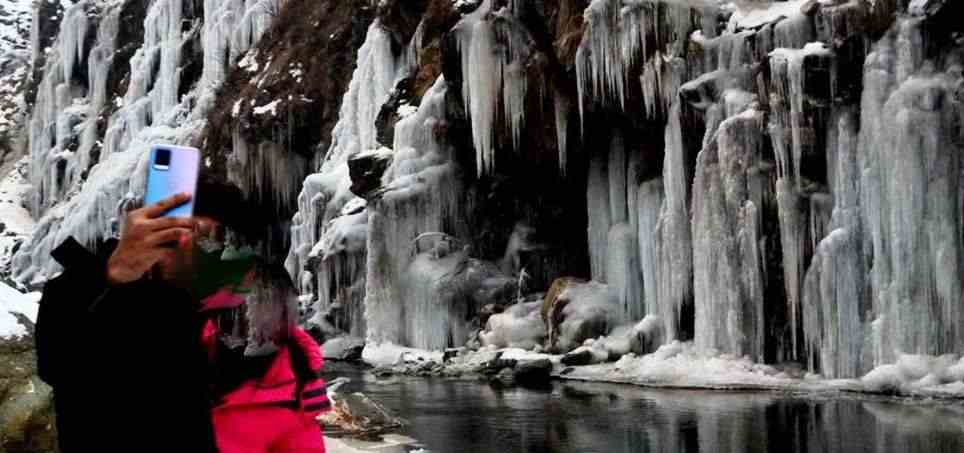 A recently found, stunning tourist destination, Drung or Drang, is situated around 50 kilometres from Srinagar. It is a little hamlet in Baramulla's Gulmarg district's Tangmarg tehsil. Just 3 miles from Tangmarg, Drung is surrounded by deep pine trees, breathtaking views of meadows, and flowing brooks. It is located on the route to the lovely Gulmarg.

The 3 km-long road from Tangmarg to Drung is still being built, and it has not yet been completely macadamized. Unlike other popular tourist destinations, Drung is great for day visits and even family picnics. The Gulmarg Development Authority is working to enhance Drung so that it may serve as a rest stop for visitors who wish to spend days exploring this area. Firozpur Nallah is a good location for trout fishing and rock climbing due to its flowing brooks.

Places to visit in Drung:

•The Frozen Waterfall:

Drung is the site to be viewed in its fascinating form in the winter when everything is blanketed in snow. The waterfall and Nallah that surround it ice due to the exceptionally low temperature, making it considerably more lovely in the winter. As a result, the impressive waterfall serves as the primary draw for a sizable number of tourists before merging with the glacier-fed water streams.

•The relics of an Ancient Hindu Temple:

Drung's ancient Hindu Temple is located a mile away from the Drung Waterfall on the banks of Firozpur River.

The history tells us that the temple is believed to be built by Pandavas of Mahabharata fame.

Following its protection and designation as a "State Protected Monument" in accordance with the "Ancient Monument Preservation Act Samvat 1977" in 1983, the monument has been looked after by the SDA, the state department of archaeology.

How to reach Drung:

While many tourists to Kashmir make their reservations in advance with reputable travel services like WadiyeSitara Tour & Travels, some of them decide to travel independently. In order to make your trip to Kashmir more unforgettable, be sure to visit this location and reserve your vacation package with WadiyeSitara Tour & Travels.

Both an airport and a train station are absent from Drung. Srinagar International Airport, which is around 48 kilometres from Drung, is the closest airport. Travelers may reach Drung from Srinagar by bus or cab in around 1 hour and 32 minutes. After arriving in Tangmarg, visitors may also hire guides and horses and go to Drung to see the entire area.

Best places to stay in Drung:

There are no restaurants or hotels in Drung, but visitors may find the best lodging in Tangmarg, which is three kilometres away, or even at the top hotels in Gulmarg, such the Royal Park Hotel, which is known for its warm hospitality, centrally heated rooms, and upscale eating options.

Best time to visit Drung:

Any time of year, tourists are drawn to the valley by its beauty since it is close to Gulmarg, a well-known tourist attraction in North Kashmir. Beginning in March, which is still a cold month, December ushers in the winter season when the waterfall freezes and visitors begin to flock to this popular tourist destination, Drung. The weather is snowy yet comfortable during this time of year, with temperatures ranging from 0°C to -3°C, making it ideal for daytime touring.